ZigZag
1.34
Arcade Game – Can You Keep the Ball from Falling?
Do you have good hand-and-eye coordination? Do you like playing challenging arcade games? If yes, then this arcade game is an ideal pick for you. ZigZag is a fun game in which you have to guide a ball through a maze of platforms by changing its direction in a zigzag pattern. It requires you to keep the ball rolling on the platforms and not let it fall from the edge. However, the platforms don't have a boundary and are shaped in the form of a maze. So, it would be very difficult for you to stop the ball from falling off the edge. You will need to have very good reflexes and excellent hand-and-eye coordination to ensure that the ball remains on the platform.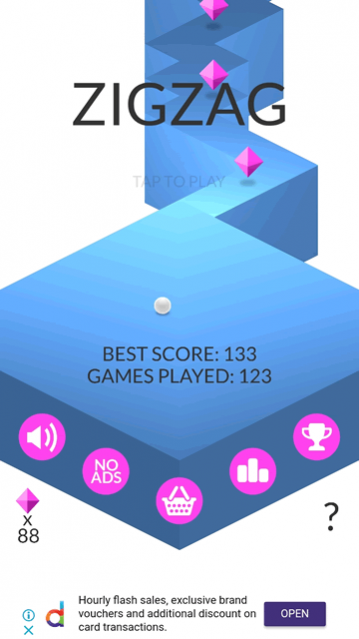 ZigZag has fluid gameplay and nice graphics that make it a very addictive game to play. You will have a hard time keeping your phone down once you start playing this arcade game. The controls are intuitive and user-friendly too. You just have to tap on the screen to change the direction of the ball. However, you will have to tap quickly on the screen or the ball will fall off. Also, you will have to time the taps carefully too. One wrong tap and you won't be able to stop the ball from falling. The number of times you tap on the screen will be counted as your score. You will also have to try and pick the diamonds that are scattered on the platforms too.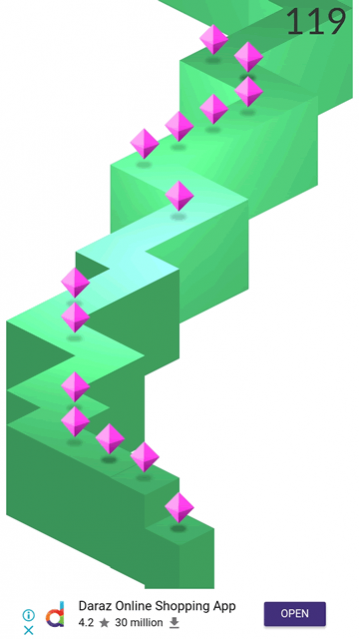 This arcade game offers endless fun to you. You can play for as long as you want if you are able to keep the ball rolling on the platform. As you continue playing, the color of the platforms will continue to change. Also, the platforms will keep falling off as you cross them. The diamonds you collect during reach game will continue to add up. You can see the aggregate number of diamonds you have available to you at the bottom-left corner of the screen. These diamonds can be used for unlocking new balls. You can find the new balls in the shop section that can be accessed by clicking the 'basket' icon. Each new ball will have a different color and will cost you 100 diamonds. You can also earn diamonds for free by watching video advertisements.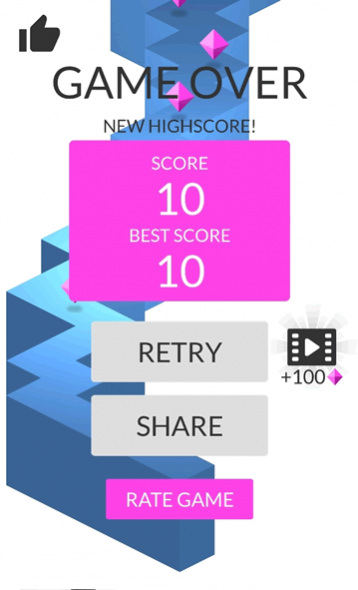 ZigZag allows you to retry immediately after a game ends. You just need to click the 'Retry' button to start a new game. At the end of a game, you will see the score you have managed to achieve along with the best score that you had achieved till then. You will also see a 'Share' button located right below the 'Retry' button. This button is for sharing your score with others. ZigZag offers various achievements to you too that you will have to unlock by getting a particular score. There are global rankings available too. You can check them out to see where you score ranks among the other players.
Features:
Guide a ball on boundary-less platforms
Change direction of the ball in a zigzag pattern
Keep the ball rolling on the platform
Collect diamonds scattered on the platforms
Unlock new balls after collecting enough diamonds
Lots of different achievements to unlock
Global rankings available to see how high your score ranks
Conclusion:
ZigZag is a gaming app that is marketed towards people who like to play arcade games. It tests your reflexes and hand-and-eye coordination by letting you control a ball on boundary-less platforms while ensuring that it doesn't fall off the edge. It is an arcade game worth having on your phone if you want to pass the time on a long trip.
RELATED PROGRAMS
Our Recommendations
---
---
---
---